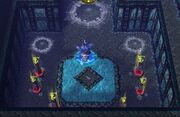 When Tyrande Whisperwind was in the Barrow Deeps to free Illidan she saw an opening behind some trees. She went in and walked around a gate to get to a warpgate. She went through the warpgate to find the in-game secret of the Shrine of the Uberfish. Inside was a [Mantle of Intelligence] that gave +3 to intelligence when worn.
Ad blocker interference detected!
Wikia is a free-to-use site that makes money from advertising. We have a modified experience for viewers using ad blockers

Wikia is not accessible if you've made further modifications. Remove the custom ad blocker rule(s) and the page will load as expected.