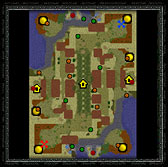 Shrine of the Ancients was a shrine on an island in the ocean which was dedicated to unknown gods in the official Blizzard Warcraft III bonus map called Shrine of the Ancients.
There once existed a shrine to the ancient gods of yore, but all that remains is a ruin of rubble, sand, and ore. Legends persist of creatures from the sea that have surfaced to guard the treasures of an era long before.
Ad blocker interference detected!
Wikia is a free-to-use site that makes money from advertising. We have a modified experience for viewers using ad blockers

Wikia is not accessible if you've made further modifications. Remove the custom ad blocker rule(s) and the page will load as expected.