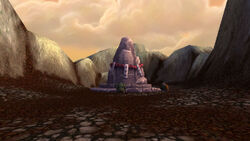 The Shrine of Dreaming Stones[65.9, 84.5] is located in the hills near the Ki-Han Brewery in the Wandering Isle. A lone stone is erected here, obviously of some significance, as it is constantly attended by pandaren appearing to either meditate or worship at it.
Inhabitants
Edit
Patch changes
Edit
Ad blocker interference detected!
Wikia is a free-to-use site that makes money from advertising. We have a modified experience for viewers using ad blockers

Wikia is not accessible if you've made further modifications. Remove the custom ad blocker rule(s) and the page will load as expected.