Shipwreck Shore
Leader(s)
Sassy Hardwrench
Race(s)
 Goblin
Location
Shipwreck Shore, Lost Isles
Characteristics
Facilities
Inn           Mailbox Bank        Auction House
Status
Active (Phase 1), Destroyed (Phase 2)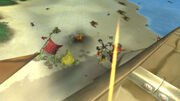 Shipwreck Shore[27.9, 75.8] is the area goblin players come to after evacuating Kezan. The shipwreck is what's left of Gallywix's Yacht after the Alliance attacked it.
All the trainers from Kezan are here. The wreck consists only of the stern of the yacht and some bamboo fences.
After rescuing Thrall from the Alliance, all the NPCs move to the Wild Overlook for their trip to the bigger island. Shipwreck Shore becomes deserted, and the Bomb-Throwing Monkeys take over.
Inhabitants
Edit
Merchants
Quest givers
Services
Trainers
NPCs
After

Goblin Escape Pods
Sometime before accepting

Help Wanted
Mobs
Patch changes
Edit
External links
Edit