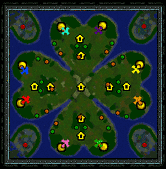 Shamrock Reef is a series of islands located somewhere on Azeroth. There is lush greenery in every direction, but nary a spare coin to be found. Still, with a wee bit o' luck, adventurers and their neighbors can earn a bounty by slaying any beasties nearby.[1]
Ad blocker interference detected!
Wikia is a free-to-use site that makes money from advertising. We have a modified experience for viewers using ad blockers

Wikia is not accessible if you've made further modifications. Remove the custom ad blocker rule(s) and the page will load as expected.