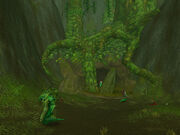 A large, twisting Naga lair south of Feathermoon Stronghold's island at the northern end of the Isle of Dread. The master of the Hatecrest tribe, Shalzaru, dwells deep inside.
The cave consists of a main cave and a smaller cave. They are connected by a waterway. The cave is filled with Hatecrest Sorceress and Hatecrest Serpent Guards.
Patch changes
Edit
Patch 1.4.0

(2005-05-05): Shalzaru's Lair on the Isle of Dread off the coast of Feralas now properly displays its name when you enter the cave.

Ad blocker interference detected!
Wikia is a free-to-use site that makes money from advertising. We have a modified experience for viewers using ad blockers

Wikia is not accessible if you've made further modifications. Remove the custom ad blocker rule(s) and the page will load as expected.