The Shadowmoon Tuber can be found north of Oronok's Farm in Shadowmoon Valley. Only his specially trained boars can dig them up, using [Oronok's Boar Whistle] will call one to do so.
Objective of
Edit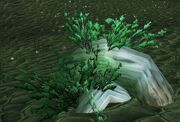 Required to complete the quest

 [70] I Was A Lot Of Things..., given by Oronok Torn-heart at Oronok's Farm, Shadowmoon Valley.
External links
Edit