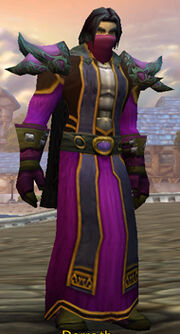 The Shadoweave Mask is a cloth mask made by Tailors that give a bonus intellect and spell power. This is good headgear for casters.
This item is crafted by Tailors with a skill level of 245.
The pattern is a quest reward for completing the quest The Undermarket which starts with Nilith Lokrav in the Searing Gorge. The quest is the 3rd in a quest chain which starts with the quest Shadoweaver given by Nilith Lokrav.
External links
Edit