This article or section is a mob stub. You can help expand it by editing it.

Mob boilerplate  · Boilerplate help  · Research:  Wowhead  WoWDB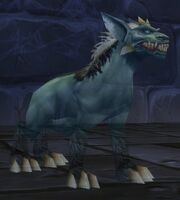 For the priest pet, see Shadowfiend.
Abilities
Strategy
Weaker versions of the dreadbeast these are also able to be enslaved or banished. When enslaved, they can cast their curse, although there is no tooltip.
Reward
Reputation: Provides 15 reputation with The Violet Eye.
External links