Shadow Word: Death

Shadow Word: Death

40 yd  range

8 sec cooldown
0.5% of base mana
A word of dark binding that inflicts (161.775% of Spell power) Shadow damage to the target



Shadow




and grants a Shadow Orb



Only usable on enemies that have less than 20% health.



Shadow




If the target does not die, the cooldown is reset, but this additional Shadow Word: Death does not grant a Shadow Orb





Enhanced Shadow Word: Death (Level 92+)


Shadow Word: Death now always generates a Shadow Orb, regardless of cooldown reset.

Usable by
Class
Priest
Properties
Type
Offensive
School
Shadow
Cooldown
8 sec (GCD 1.5 sec)
Level required
46

TCG

image
Shadow Word: Death is a priest ability learned at level 46 for those with the Shadow specialization. It is a Shadow Word - a Shadow-based direct damage spell. It can only be used on targets below 20% health. It also generates a [Shadow Orb].
Modified by
Edit
Talents
Shadow abilities
Patch changes
Edit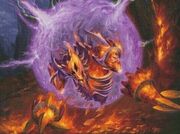 External links
Edit
Ad blocker interference detected!
Wikia is a free-to-use site that makes money from advertising. We have a modified experience for viewers using ad blockers

Wikia is not accessible if you've made further modifications. Remove the custom ad blocker rule(s) and the page will load as expected.