Shadow Wing
103,892pages on
this wiki
Talk

15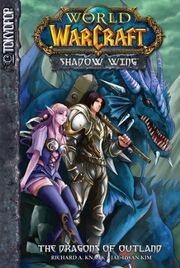 World of Warcraft: Shadow Wing[1][2] is a 0200

Burning Crusade era manga trilogy.
Description
Edit
Tyrygosa and Jorad Mace may have triumphed over the undead in their quest for the Sunwell, but can even this dauntless duo survive a ruined dimension populated by dragons that should not exist?[2]
It has the following known features;
Characters
Edit

The trilogy was originally named Dragons of Outland.
References
Edit
External links
Edit

BlizzPlanet
BlizzCon 2008 - World of Warcraft: Night of the Dragon Q&A, posted Posted 13th Jan 2008 11:55 AM by Medievaldragon

BlizzPlanet
World of Warcraft: Night of the Dragon - Richard A. Knaak Video Interview (only a few things about Dragons of Outland), posted Dec 31st, 2007 08:00 PM by Medievaldragon

BlizzPlanet
Warcraft Pocket Books Store