102,924pages on
this wiki
Talk

0
Not yet released!

This article or section includes information about announced content that has not been released yet. The expected release date is unknown.
Please remove this template when the content has gone live.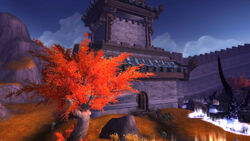 The Shado-Pan Fallback is a tower located in the southwestern region of Kun-Lai Summit. It is a part of the Serpent's Spine. Nearby Firebough Nook has been overrun by the yaungol and sha, and the monks have retreated to this tower to hold off the attackers and await reinforcements.
Flight paths
Inhabitants
Merchants
Services
NPCs
Patch changes
External links