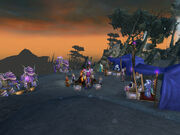 The Sha'tari Base Camp is an encampment defended by Sha'tar vindicators. It is located southwest of Auchindoun in Terokkar Forest's Bone Wastes.
Facilities
Edit
Equipment Repair
Blacksmithing Supplies
Bonfire
Cookpot
Profession Trainers
Edit
Merchants
Edit
Aundro

<Blacksmithing Supplies>
Other Characters
Edit
Ad blocker interference detected!
Wikia is a free-to-use site that makes money from advertising. We have a modified experience for viewers using ad blockers

Wikia is not accessible if you've made further modifications. Remove the custom ad blocker rule(s) and the page will load as expected.