104,173pages on
this wiki
Talk

79
Editorial note: Keep it clean, and no speculation.

Sexuality is not often called upon in the Warcraft universe, but it does exist in official Warcraft lore and art.
Sexuality in the Warcraft universe
Childbirth
Interracial breeding
Interacial breeding is generally frowned upon by human and elven society. Half-elves usually suffer bigotry from both their elven and human parents. The elven parents often abandon their children.[2] (

WRPG 48

)[3] (

A&HC #?

) [4] (

APG #?

)
Romance and love
It is not uncommon for a succubus in a mortal's servitude to fall uncontrollably in love with him or her; this occurrence is not always to the master's advantage, though, for a devoted succubus can be prone to fits of extreme jealousy, especially when her master deals with those of the opposite sex.[5] (

MG 127

)
Marriage and marriage ceremonies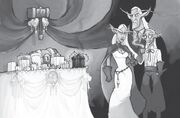 Mating rituals
Magnataur do not have a mating season. Magnataur breed when food is plentiful and chance brings a potential mate into close proximity. Once the act is complete the pair separates. Mating can pit males against each other. These fights are usually all display. The two shout and smash the ground until one loses his nerve and flees.[7] (

MoM 60

)
Murlocs extract a greenish mucus from the colored head fin of threshadons for use by chieftains as a powerful aphrodisiac.[1] (

LoC 194

)
Gender and gender roles
Note: In the game... men and women are equal in Azeroth, so the only differences between the two genders are cosmetic.[9] (WoWMan 15) There is generally more dimorphism in the lore.
Gender is usually split between males and females. However, for some creatures and races, some members of a particular gender are mentioned by lore, but rarely represented or seen.[10]
Some races show extreme sexual dimorphism, though there are a few unique exceptions:
Homosexuality
Sentinel Sweetspring "grins at Sentinel Amberline across the camp, waggling her long eyebrows suggestively." This is the only reference to homosexuality thus far in-game
Prostitution
Prostitution, the sex trade, and slavery are common business practices among goblins. While slavery is usually illegal in other parts of the world, it is a legitimate trade among goblins, and is condoned by the trade princes. However, it is kept secret to avoid offending potential customers who might object to the controversial business. Slaves are used not just for manual labor but for other deplorable pursuits, and have no rights at all.[8] (

DF 116

)
The streets along Ratchet's wharf teem with whorehouses (aka brothels) for those with earthier tastes.[2] (

WRPG 191

)
Rape
Rape is generally frowned upon in Azeroth's societies but exists. Half-human half-ogres are rumored to be products of ogre aggressions on human villages.[4] (

APG 7

) Half-orc genesis is usually violent and perverse, they are usually born to abused or victimized parents.[4] (

APG 8

) Forlarren are the typically the result of couplings between unwilling night elves and demons.[7] (

MoM 199

) A succubus is into pleasure and pain. Like all demons, she enjoys bringing death and misery to the mortal races, but that doesn't mean she can't have fun with them first.[5] (

MG 127

)
Harpies capture males of other humanoid races and force them to mate. These unfortunates are often hobbled to keep from escaping. Given the circumstances, seduction is out of the question. Harpies resort to magic and potions to ensure cooperation, and employ their captives until they succumb to disease and malnutrition...[7] (

MoM 55

)
Quotes
Concubine quote;

"They fall asleep after. Me, I fall asleep during...."
A dwarven saying;

"Be-ware, Be-ware of a gnome with long hair! Though tiny in height, if the ale is just right, she'll follow you back, and hop in the sack!"[12]
A female troll saying;

"When enraged, and in heat, a female troll can mate over 80 times in one night. Be you prepared?"[13]
Images
This section contains images about the anatomy (nudity, sexual dimorphism, and suggestive imagery), sexuality in official artwork, and/or images that show off the physical form. They may include nudity or revealing clothing. It also includes examples of sexual dimorphism within a race.
Females
Males
Other
Related NPCs
References