Appearance
Edit
Pale skin stretched sickly over a medium frame-- crimson eyes glowering out from his skull-- (When not covered by his signature crimson shades) Long champagne-colored hair tied high and messily above the back of his neck...this male seems to be every bit a Knight of the Fallen. However, aside from his obvious psionic vampric lifestyle, [Spirit Shards are the perfect snack] he seems to blend in rather well with those around him-- quiet, studious...a bit of a sharpshooter with words when roused. Although in Stormwind, it's not as if he sticks out the most, he has learned; to his shock at first knowledge. What a world!
Background
Edit
Was married to Ellen Ruli (Stanbridge) for 13 years and they had a son, Kane. (12yr) Was a studying Arcanist, but his duty laid with his traveling merchant business. Grew up outside of Redridge.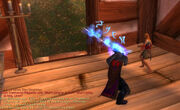 Relationships
Edit
Lord Saeric Ironcrest: A fellow comrade of the Ebon Blade. Saeric's dry outlook on immortality and the world impressed Vyn and drew him quickly to the ex-pally's side.
Public Knowledge & Rumors
Edit
*He is an Energivore. Usually seen eating [Spirit Shard]s like jawbreaker candies.
---
He was forced to murder his wife, under control of the Ebon Blade.
Ad blocker interference detected!
Wikia is a free-to-use site that makes money from advertising. We have a modified experience for viewers using ad blockers

Wikia is not accessible if you've made further modifications. Remove the custom ad blocker rule(s) and the page will load as expected.