Server Information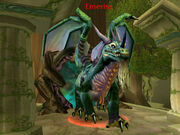 Emeriss is a PvP realm which went online in December 2005 for migrating players from realms such as Warsong, Skullcrusher, Kor'gall and Bladefist. Most of these migrants left their respective realms due to long queues and increasing lag, or in Warsong's case, an overwhelming population of Russian players.
During the first weeks there was a very unbalanced Horde/Alliance ratio in Horde's favor. This resulted in very long Battleground queues, and Horde players grinding for the much-coveted Rank 14 was forced to bring the battle to Ironforge in an attempt to compensate for the unexpected gap in honor points. This ratio has now been evened out, and is now in slight favor of Alliance.
The server has a strong history of heated rivalry in both PvE and especially PvP, which has resulted in much drama on the realm forums. The introduction of cross-realm battlegrounds and the retirement or migration of many of the "server legends" has reduced this, to a degree. These "server legends" have often found themselves at the center of heated drama, and has been the target of both admiration and contempt.
The realm is named after the dragon Emeriss, who is an outdoor raid boss.
Ad blocker interference detected!
Wikia is a free-to-use site that makes money from advertising. We have a modified experience for viewers using ad blockers

Wikia is not accessible if you've made further modifications. Remove the custom ad blocker rule(s) and the page will load as expected.