Realm Information
Edit

 Bronzebeard Europe (PvE)
EU-Bronzebeard is a medium-population European normal realm. The server has a 93 / 7% (34 : 1) ratio of Alliance/Horde,The most popular class is Paladin with 14% of the server population. The least popular classes are Rogue (7%) and Warlock (7%).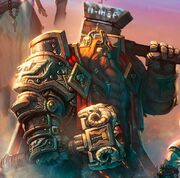 Realm Forum
Edit
Active Guilds
Edit
Non Active Guilds
Edit
Alliance
Horde

In Progress. april 6 2010
FiveVectors
Angels From Hell
A murloc stole my gear
Driven
Innuendo
Russian Guild
Solution

In Progress. april 6 2010
Ares - The first Rank 14 player and first (proper) level 60 on Bronzebeard.
Alliance
Edit
Saladin - Along with Ares the first Rank 14 player on Bronzebeard.
Zajklon - The first player to get Gladiator.
Ad blocker interference detected!
Wikia is a free-to-use site that makes money from advertising. We have a modified experience for viewers using ad blockers

Wikia is not accessible if you've made further modifications. Remove the custom ad blocker rule(s) and the page will load as expected.