Server:Azuremyst US
104,493pages on
this wiki
Talk

3
This article is a realm page for the Azuremyst US realm (server)

This is a community maintained page and does not represent official World of Warcraft history or occurrences. Information and events here are for community documentation of server particulars, history, or opinion.
Azuremyst (US) is a PvE server located in the US Pacific time zone. It was brought online in November, 2006, in advance of the release of World of Warcraft: The Burning Crusade. After the release of The Burning Crusade in January, 2007, it accepted free character transfers from a number of high population servers, including Lightbringer, Proudmoore, Kilrogg, Uther, and Hyjal[1]. It is a part of Battlegroup US Retaliation.
Alliance Guilds
10 Man Guilds
25 Man Guilds
Casual Guilds
Horde Guilds
10 Man Guilds
25 Man Guilds
Casual Guilds
Unofficial Server Motto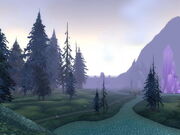 We have more Night Elf Hunters than Horde!
Things Azuremyst would like you to know.
Alliance overpopulate the server at a 2:1 ratio.
The Battlegroup is about 50/50, also depends on play time.
ONE PIECE was the first guild to complete TBC content.
GTKYS (a.k.a. Get To Know Your Server) was created by Diresky, he has since retired.
25-Man Progression
Icecrown Citadel
Key

= Incomplete,
= Completed with Normal Difficulty,

= Completed in Heroic Mode,
Information from Azuremyst 25-Man Progression Thread Last Edited: Bastagoat (talk) 15:45, May 18, 2010 (UTC)
Lich King Kill List
Rebellion - 03/11/10
Exalted - 04/11/10
Requiem - 04/15/10
ONE PIECE - 05/06/10
10-Man Progression
Icecrown Citadel
Key

= Incomplete,
= Completed with Normal Difficulty,

= Completed in Heroic Mode,
Information from Azuremyst 10-Man Progression Thread Last Edited: Bastagoat (talk) 15:44, May 18, 2010 (UTC)
Lich King Kill List:
Sanctity - 02/22/10
Exalted - 03/05/10
Rebellion - 03/07/10
For of War - 03/11/10
ONE PIECE - 03/30/10
Ares - 04/01/10
Liquidation Division - 04/04/10
Requiem - 04/11/10
La Cosa Nostra - 04/18/10
Semper Fidelis - 04/26/10
Guild Server First Progression Kills
(WOTLK)
Server First 10 Man Kills
| | |
| --- | --- |
| Boss | Guild |
| Algalon the Observer | |
| Yogg-Saron Hard Mode | [ONE PIECE] |
| Mimiron Hard Mode | [Resurrection] |
| Freya Hard Mode | [Resurrection] |
| Hodir Hard Mode | [Resurrection] |
| Thorim Hard Mode | [Rebellion] |
| Yogg-Saron | [ONE PIECE] |
| Sartharion | [ONE PIECE] |
| Sartharion W/3 Drakes | [ONE PIECE] |
| Archavon | [Synapse] |
| Kel'Thuzad | [ONE PIECE] |
| Malygos | [ONE PIECE] |
Server First 25 Man Kills
| | |
| --- | --- |
| Boss | Guild |
| Algalon the Observer | |
| Yogg-Saron Hard Mode | |
| Mimiron Hard Mode | |
| Freya Hard Mode | |
| Hodir Hard Mode | [Rebellion] |
| Thorim Hard Mode | [ONE PIECE] |
| Yogg-Saron | [ONE PIECE] |
| Sartharion | [ONE PIECE] |
| Sartharion W/3 Drakes | [ONE PIECE] |
| Archavon | [ONE PIECE] |
| Kel'Thuzad | [ONE PIECE] |
| Malygos | [ONE PIECE] |
(Burning Crusades)
| | |
| --- | --- |
| Boss | Guild |
| Nightbane | [ONE PIECE] |
| Zul'jin | [ONE PIECE] |
| Gruul the Dragonkiller | [ONE PIECE] |
| Magtheridon | [Rebellion] |
| Lady Vashj | [Rebellion] |
| Kael'thas Sunstrider | [ONE PIECE] |
| Archimonde | [ONE PIECE] |
| Illidan Stormrage | [Rebellion] |
| Kil'jaeden | [ONE PIECE] |