This article is a realm page for the Auchindoun_US realm (server)

This is a community maintained page and does not represent official World of Warcraft history or occurrences. Information and events here are for community documentation of server particulars, history, or opinion.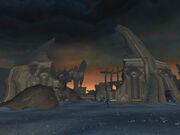 ---
General Information
---
Realm opened: 12:01 on January 16th, 2007 Time Zone: Eastern
Battle Group: Retaliation
See Also: Auchindoun Realm Forum, Server:Auchindoun US.
Burning Crusade Progression
Edit
The Black Temple
Edit
| Guild | High Warlord Naj'entus | Supremus | Shade of Akama | Teron Gorefiend | Gurtogg Bloodboil | Reliquary of Souls | Mother Shahraz | Illidari Council | Illidan Stormrage |
| --- | --- | --- | --- | --- | --- | --- | --- | --- | --- |
| Revolution | | | | | | | | | |
| Addiction | | | | | | | | | |
| Instinct | | | | | | | | | |
| Reckless Ambition | | | | | | | | | |
| Recurring Nightmare | | | | | | | | | |
| Synergos | | | | | | | | | |
Battle of Mount Hyjal
Edit
| Guild | Rage Winterchill | Anetheron | Kaz'rogal | Azgalor | Archimonde |
| --- | --- | --- | --- | --- | --- |
| Revolution | | | | | |
| Addiction | | | | | |
| Instinct | | | | | |
| Reckless Ambition | | | | | |
| Recuring Nightmare | | | | | |
| Synergos | | | | | |
Serpentshrine Cavern
Edit
Magtheridon
Edit
Gruul's Lair
Edit
Karazhan
Edit
| Guild | Attumen the Huntsman | Moroes | Maiden of Virtue | Opera Event | The Curator | Terestian Illhoof | Shade of Aran | Prince Malchezaar | Netherspite | Nightbane |
| --- | --- | --- | --- | --- | --- | --- | --- | --- | --- | --- |
| Devastation | | | | | | | | | | |
| Happy Ending | | | | | | | | | | |
| Invictus | | | | | | | | | | |
| Revolution | | | | | | | | | | |
| Traumatize | | | | | | | | | | |
| The Lost Tribe | | | | | | | | | | |
| Addiction | | | | | | | | | | |
| Afterlife | | | | | | | | | | |
| Brohaus | | | | | | | | | | |
| Immortal Legion | | | | | | | | | | |
| Instinct | | | | | | | | | | |
| Libitur Contemptus | | | | | | | | | | |
| Pillage inc. | | | | | | | | | | |
| Reckless Ambition | | | | | | | | | | |
| Recurring Nightmare | | | | | | | | | | |
| RI | | | | | | | | | | |
| Synergos | | | | | | | | | | |
Outdoor Progression
Edit