This article is a player character biography page for Rauber of Arygos US created by Mucke. The contents herein are entirely player made and in no way represent official World of Warcraft history or occurrences which are accurate for all realms. The characters and events listed are of an independent nature and applied for roleplaying, fictional, speculative, or opinions from a limited playerbase only.
Please make sure player character articles are named properly - see the player character articles policy.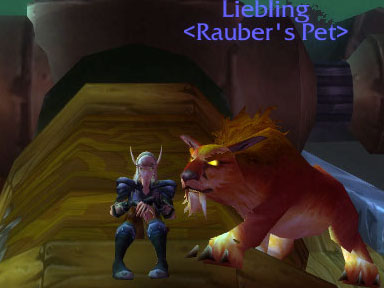 The "Why" on Rauber
Edit
Rauber is Beast Master spec

. To me the hunter is all about the pet. So going down the beast tree just makes sense to me.
At Level 70
TOP↑

Rauber's DPS Pet → Liebling File:Lynx.png Springpaw Stalker


Rauber's Tank Pet → Aufladung Rotting Agam'ar
TOP↑
Skill 352
TOP↑
Skill 375
TOP↑
Made sure first aid was maxed out. It's too easy not to, plus it's a huge time saver when soloing and a life saver in raids/5mans. I was able to get 375 FA as soon as I hit 35 and was able to do the quest in Hammerfall.
Doing cooking to help in feeding my pets. I figured if I was ever to max out cooking it would be on a hunter.
Trying to keep fishing up to help with cooking.
TOP↑
Limited
Quest Rewards/Holiday Rewards
Vendor
Ground
Ad blocker interference detected!
Wikia is a free-to-use site that makes money from advertising. We have a modified experience for viewers using ad blockers

Wikia is not accessible if you've made further modifications. Remove the custom ad blocker rule(s) and the page will load as expected.