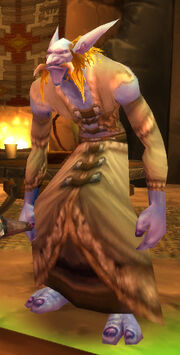 Searn Firewarder is a former troll quest giver located just outside Miwana's Longhouse[39.2, 48.4] in the Valley of Wisdom, in the orcish city of Orgrimmar. He no longer offers quests, but can be found with the shaman trainers Sagorne Creststrider, Sian'tsu, and Kardris Dreamseeker at the bonfire.
Removed quests
Edit


Note: These quests are no longer associated with this particular mob/NPC/item.
[20]

Call of Water

[30]

Call of Air
Patch changes
Edit
Patch 4.0.3a

(2010-11-23): Removed from Grommash Hold; quests removed.

External links
Edit
Ad blocker interference detected!
Wikia is a free-to-use site that makes money from advertising. We have a modified experience for viewers using ad blockers

Wikia is not accessible if you've made further modifications. Remove the custom ad blocker rule(s) and the page will load as expected.