Ad blocker interference detected!
Wikia is a free-to-use site that makes money from advertising. We have a modified experience for viewers using ad blockers

Wikia is not accessible if you've made further modifications. Remove the custom ad blocker rule(s) and the page will load as expected.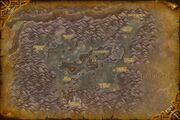 Searing Gorge is a level 48-50 zone. The main storyline deals with the Dark Iron clan's involvement with the Twilight's Hammer and the forces of Ragnaros. The chain starts on the path from Badlands at Thorium Advance, and then loops around the zone via Thorium Point and Iron Summit, then down into the Cauldron and the Slag Pit to deal with Archduke Calcinder, the leader of Ragnaros' forces.
After Searing Gorge comes the Burning Steppes storyline.
Complete all of:

 [47] 

Dig-Boss Dinwhisker

 [47] 

Out of Place

/  [47] 

A Lumbering Relic

 [47] 

Lunk's Task

 [47] 

Lunk No Kill

 [47] 

A Proper Antivenom

Complete all of:
 [49] 

Siege!

/  [49] 

Set Them Ablaze!

/  [49] 

They Build a Better Bullet

 [49] 

Deceit

 [49] 

Slavery is Bad

/  [49] 

Sweet, Horrible Freedom

/  [49] 

Rise, Obsidion

 [50] 

Kill 'em With Sleep Deprivation

 [50] 

From Whence He Came

 [50] 

Welcome to the Brotherhood