Looted from Jormungar Meat after using a

 [Potent Explosive Charges] to blow up a Hulking Jormungar near The Crystal Vice in northern Dragonblight.
Objective of
Edit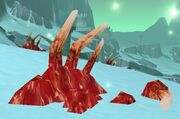 See the Hard to Swallow article for information on how to collect these.
External links
Edit
Ad blocker interference detected!
Wikia is a free-to-use site that makes money from advertising. We have a modified experience for viewers using ad blockers

Wikia is not accessible if you've made further modifications. Remove the custom ad blocker rule(s) and the page will load as expected.