103,466pages on
this wiki
Talk

4
The subject of this article was removed from World of Warcraft in patch 4.0.1.

This includes items and quests that can no longer be obtained.
The in-game information in this article is kept purely for historical purposes and should probably not be under any other categories.
Not to be confused with Seals of Command.
For the current version, see Seal of Command.
Seal of Command is a talent in the Retribution tree, that requires 15 talent points invested in the tree to take. Using a Judgement spell while Seal of Command is active deals Holy damage. Holy damage is also applied on each weapon swing.
Damage
Seal of Command deals 7% weapon damage on every swing, and chains its hits onto two nearby targets when used with a single target attack with Seal of Righteousness.
The actual attack(s) made when Seal of Command procs are resolved as separate melee special-attacks that deal holy damage. They are resolved identically to any Instant Attack — they can miss, be dodged, be parried, be blocked, and will do double damage on a crit (rather than 1.5x damage as a normal spell crit would). However, if the proc crits, it will not trigger Art of War.
The base swing and the special-attack(s) can all crit independantly of each other. A base swing crit does not increase the output of the special attack(s) and the special attack critical strikes are always based off the normal swing damage.
Glyphs
Item Level

25

Major Glyph
Classes: Paladin
Requires level 20
Use: You gain 8% of your base mana each time you use a Judgement with Seal of Command active.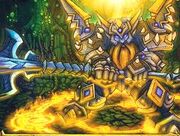 Usage
Seal of Command finds diverse uses, both as an AoE tanking and damage seal. It is able to hold aggro with multiple mobs at once, boosting its threat through Righteous Fury, also applying the Vindication AP debuff on multiple targets when Vindication procs. It is also the seal of choice against trash mobs, doing AoE holy damage against multiple targets.
Seal of Command is great when soloing content. Combined with Vindication, it is an AoE damage and tanking seal, in one.
Notes
The proc can crit
Combined with Righteous Fury you are able to hold aggro of quite large packs of mobs.
When Vindication procs on a weapon swing, the AP debuff is applied to all targets that receive Seal of Command damage.
The 'splash' damage from Seal of Command will hit both hostile and non-hostile targets in melee range, thus possibly drawing into battle passive creatures that were previously not attacking you.
Overview of proccing spells
Note: The tests giving these results (except for Holy Shock, Crusader Strike and Divine Storm) were conducted during Patch 3.3.3.
Patch changes
References
External links