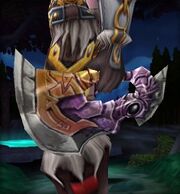 The Scythe of the Unseen Path is a hunter one-handed axe given by the Cenarion Circle for turning in items dropped by creatures in the Ruins of Ahn'Qiraj. It gives bonuses to agility, stamina, and mana regeneration. It is part of the Trappings of the Unseen Path item set.
This item is a quest reward from

 [80R] Scythe of the Unseen Path.
You must also have Exalted reputation with the Cenarion Circle.
Patches and hotfixes
Edit

Patch 1.9.0 (03-Jan-2006): Added

External links
Edit
Ad blocker interference detected!
Wikia is a free-to-use site that makes money from advertising. We have a modified experience for viewers using ad blockers

Wikia is not accessible if you've made further modifications. Remove the custom ad blocker rule(s) and the page will load as expected.