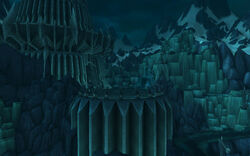 Scourgelord's Command is the overlook over Pit of Saron that guards the entrance to the Halls of Reflection. Players can access the overlook by defeating Forgemaster Garfrost, Krick and Ick and completing the gauntlet through the tunnel.
Scourgelord Tyrannus can be found here when players finish the gauntlet.
Ad blocker interference detected!
Wikia is a free-to-use site that makes money from advertising. We have a modified experience for viewers using ad blockers

Wikia is not accessible if you've made further modifications. Remove the custom ad blocker rule(s) and the page will load as expected.