Scourgelord's Battlegear
102,924pages on
this wiki
Talk

0
Scourgelord's Battlegear is the lower Death knight tier 10 DPS set.
Note that items from the Sanctified and Sanctified (heroic) versions also satisfy the set bonus requirement.
See also: Scourgelord's Plate for the tank version of this set.
The parts of this set are Item Level 251, and are purchased solely with Justice Points. The legs and hands also drop from Toravon the Ice Watcher in 10-man Vault of Archavon.
The Item Level 264 versions are upgraded from these initial ones, with a Vanquisher's Mark of Sanctification.
The Item Level 277 versions are upgraded from the 264 versions, with a Vanquisher's Mark of Sanctification (heroic).
All three versions count towards satisfying the set bonus requirements.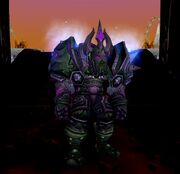 Inspiration
Edit
The Scourgelord tier was most likely based on the Lich King's armor, with the sets portraying the skulls of the damned and a sinister "crown" on the helm.
Patch changes
Edit
External links
Edit
Death knight sets
This article or section contains information that is out-of-date.

Please replace the old information with up to date information.
This may include rewriting sections to ensure they are clear and concise, and wikifying.