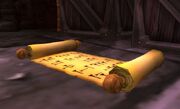 The Schematic: Field Repair Bot 74A is a physical schematic that can't be placed in your inventory, it can be found in the Manufactory of Blackrock Depths.
You will need Engineering (300) to be able to learn how to craft a Field Repair Bot 74A.
External links
Edit
Ad blocker interference detected!
Wikia is a free-to-use site that makes money from advertising. We have a modified experience for viewers using ad blockers

Wikia is not accessible if you've made further modifications. Remove the custom ad blocker rule(s) and the page will load as expected.