The Scarlet Crusade have expanded their fortifications in the west with the addition of the Scarlet Palisade. Constructed just east of Solliden Farmstead, the palisade is one of the last outpost's of a dying order of crusader knights. In A Scarlet Letter quest, new players are tasked with freeing the captive

 Lilian Voss from the scarlet watchtower within the palisade.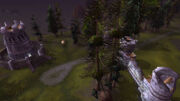 External links
Edit
Ad blocker interference detected!
Wikia is a free-to-use site that makes money from advertising. We have a modified experience for viewers using ad blockers

Wikia is not accessible if you've made further modifications. Remove the custom ad blocker rule(s) and the page will load as expected.