The Savage Saronite subset of the Blacksmithing tradeskill is a Plate armor collection based around Resilience. This makes it of most interest in Player vs Player (PvP) scenarios. It is also useful for tanks for its high Stamina and for helping to reach crit immunity.
Consisting of 8 pieces of armor it is a fairly complete gear set, while not being an actual Set. The relative availability of the materials required to craft the pieces make it good for fleshing out stats and gear pieces as well.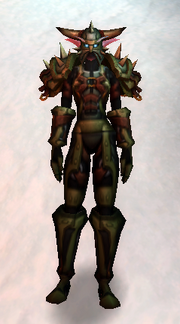 Ad blocker interference detected!
Wikia is a free-to-use site that makes money from advertising. We have a modified experience for viewers using ad blockers

Wikia is not accessible if you've made further modifications. Remove the custom ad blocker rule(s) and the page will load as expected.