Sanguine Hibiscus

"It certainly has a 'passionate' fragrance."
Sell Price: 4
Sanguine Hibiscus is a quest object which can be found as a drop from mobs in Underbog as well as from object spawns in Underbog.
As a quest objective
Edit
Stacks of 5 Sanguine Hibiscus may be turned in for 750 Sporeggar reputation in the quest

 [65] Bring Me A Shrubbery! and its repeatable component,

 [65] Bring Me Another Shrubbery!
As an object
Edit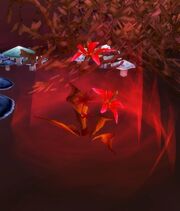 The Sanguine Hibiscus is located in Underbog. These also respawn, making it relatively easy to farm them in an empty instance, at least until the enemies respawn.
External links
Edit
Ad blocker interference detected!
Wikia is a free-to-use site that makes money from advertising. We have a modified experience for viewers using ad blockers

Wikia is not accessible if you've made further modifications. Remove the custom ad blocker rule(s) and the page will load as expected.