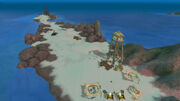 Sandy Beach[60.3, 26] is a long narrow beach with water on most of both sides and two flight paths at either end: one to Ironforge and one[61, 28] to the Undercity from Vashj'ir. It is above the Shimmering Expanse.
Flight paths
Edit
from Flight Masters
Edit
Inhabitants
Edit
Services
North end:
  

Francis Greene

 <Gryphon Master>
  

Swift Seahorse

 <Flight Master>
South end:
  

Briglar

 <Flight Master>
  

Swift Seahorse

 <Flight Master>
Patch changes
Edit
External links
Edit

The Azeroth Cookbook
Travel to Scenic Vashj'ir
Ad blocker interference detected!
Wikia is a free-to-use site that makes money from advertising. We have a modified experience for viewers using ad blockers

Wikia is not accessible if you've made further modifications. Remove the custom ad blocker rule(s) and the page will load as expected.