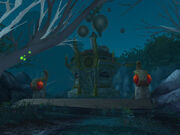 The Sanctum of the Sun[55, 48] is located to the southeast of Tranquillien, still in working order, and the magisters who are tending to it give a number of level 15-20 tasks related to saving the Ghostlands from the Scourge and other invaders, including the Night elves. The building is guarded by a few Ghostlands Guardians.
Behind the building, there is a secret passage through the mountains to Tranquillien, which saves a lot of time when travelling between the two areas.
Occupants
Edit
Ad blocker interference detected!
Wikia is a free-to-use site that makes money from advertising. We have a modified experience for viewers using ad blockers

Wikia is not accessible if you've made further modifications. Remove the custom ad blocker rule(s) and the page will load as expected.