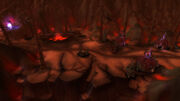 The Sanctum of the Prophets[58, 69] is located north of the Ascendant's Rise in Mount Hyjal. While serving as one of the bases for the Twilight's Hammer clan, it is also the location of the portal[55.5, 66] to the Inner Spire.
Inhabitants
Edit
The Sanctum doesn't appear to show up on the map of Mount Hyjal, nor is it apparent when crossing into its border within the game. It is mentioned and identified within quest text, however.
Patch changes
Edit
External links
Edit
Ad blocker interference detected!
Wikia is a free-to-use site that makes money from advertising. We have a modified experience for viewers using ad blockers

Wikia is not accessible if you've made further modifications. Remove the custom ad blocker rule(s) and the page will load as expected.