Ad blocker interference detected!
Wikia is a free-to-use site that makes money from advertising. We have a modified experience for viewers using ad blockers

Wikia is not accessible if you've made further modifications. Remove the custom ad blocker rule(s) and the page will load as expected.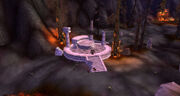 The Sanctuary of Malorne[30, 65] is located northwest of Sulfuron Spire in Mount Hyjal. It is a shrine to the demigod Malorne. After a series of quests the sanctuary and surrounding land transforms into The Regrowth. During the Firelands Invasion this becomes a central staging point for the druids; it suffers an attack by Ragnaros's forces and also bears witness to the resurrection of Malorne.
Flight paths
Edit
Inhabitants
Edit
Initial phase
Guards
Merchants
Quest givers
Services
Firelands Invasion beginning; includes all the above with exception of Hamuul
Quest givers
NPCs
After Through the Gates of Hell (final phase)
Guards
Merchants
Quest givers
Services
NPCs
Patch changes
Edit