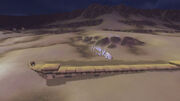 The Sahket Wastes[49, 22.3] is a vast stretch of sand and ruins northwest of Ramkahen in Uldum. It encompasses the Seal of the Sun King[53.1, 27.7] and the Ruins of Ahmtul[45.9, 17.4]. It is a dangerous land full of venomous beasts and bandits.
Inhabitants
Edit
"Sahket" is an Arabic word that means "Silent".
Patch changes
Edit
External links
Edit
Ad blocker interference detected!
Wikia is a free-to-use site that makes money from advertising. We have a modified experience for viewers using ad blockers

Wikia is not accessible if you've made further modifications. Remove the custom ad blocker rule(s) and the page will load as expected.