This article or section contains information that is out-of-date.

Please replace the old information with up to date information.
This may include rewriting sections to ensure they are clear and concise, and wikifying.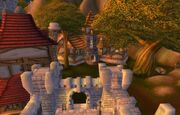 SI:7[79.6, 61.2] (aka or part of Stormwind Intelligence) is an Alliance organization.[1] (APG 177) It includes rogues specializing in special operations, assassination and stealth tactics. It is one of the most active organizations in the Alliance.[1] (APG 177)
The guild is currently led by Master Mathias Shaw, grandson of Pathonia Shaw — the founder of a similar organization, the Stormwind Assassins, and a former master thief. SI:7 is located in the Old Town quarter of Stormwind. They have operatives all throughout the Eastern Kingdoms who carry out secret missions for Stormwind, such as Renzik "The Shiv" and Flint Shadowmore. They also have some operatives in the Kalimdor region, such as Andello Porter.
In Cataclysm

This section concerns content exclusive to Cataclysm.
After the events of the Cataclysm, SI:7 is now within its own lush, green area, separate from both the Command Center and Old Town. Also, a large team of SI:7 Operatives and SI:7 Assassins is doing investigations on the Lost Isles. Neutral SI:7 Field Agent <Barrens Operatives> have been seen around Southern Barrens with some embarrassing cover operations that led to a Revealed Alliance Spy <SI:7 Field Agent>. Mathias Shaw has brought a squad of SI:7 Agent <SI:7 Agents> led by a SI:7 Squad Commander to Twilight Highlands to aid him and adventurers with operations their against the Twilight's Hammer cult.
In Mists of Pandaria

This section concerns content exclusive to Mists of Pandaria.

Note: This is a generic section stub. You can help expand it by clicking
 Edit to the right of the section title.
SI:7 Rangers need to be rescued from Ragefire Chasm.[2]
In Storwind City
Merchants
  

Sloan McCoy

 <Poison Supplies>
  

Jasper Fel

 <Shady Dealer>
Trainers
  

Osborne the Night Man

 <Rogue Trainer> (outside SI:7 entrance)
  

Tony Romano

 <Rogue Trainer>
  

Arthur Huwe

 <Rogue Trainer>
NPCs
Known members
People in touch with SI:7
Trivia
It is unknown if SI:1-SI:6 even existed, let alone what happened to them. SI:7 appears to be a clever reference to the British government agencies MI5 and MI6, the remaining sections of the British Directorate of Military Intelligence. SI:7's operations are similar to those of MI6 in that they deal with cloak-and-dagger external affairs.
References
^  [16] 

No Man Left Behind

^  [86] 

Anduin's Decision
See also
External links
WoW Insider
Mists of Pandaria: Meet the new faces of SI:7
by Alex Ziebart May 9th 2012 at 2:00PM