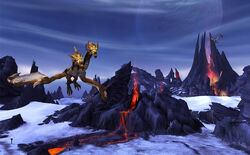 The versatile, flying rylak have adapted to climates across Draenor, but their greatest density is in Frostfire Ridge. Here, warm volcanic stone ledges make for excellent nesting sites, while snowy featureless expanses serve as prime hunting grounds for these ferocious predators to seek flesh with their dual sets of eyes and nostrils. Their thick hides protect them from the elements, as well as from the arrows of frustrated hunters. Adventurers seeking to display a two-headed rylak trophy should remain wary of both sets of fangs... and those seeking to tame a new mount should consider the Iron Horde's tendency to armor the largest rylaks and lead them into combat.
Hunter pet
Edit
Specialization (upon taming)

Cunning
The Rylak eats


The Rylak comes with


All pets come with


Though hunters can respec their pet rylaks into Tenacity or Ferocity, they are inherently Cunning. In addition to the abilities that come standard with all pets ([Growl] and [Avoidance]) and those given to their natural or retrained specialization, all rylaks are given the following:
Ad blocker interference detected!
Wikia is a free-to-use site that makes money from advertising. We have a modified experience for viewers using ad blockers

Wikia is not accessible if you've made further modifications. Remove the custom ad blocker rule(s) and the page will load as expected.