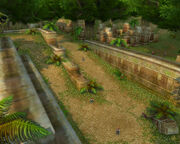 The Ruins of Zul'Kunda are very large troll ruins in the north-west part of Northern Stranglethorn [22.3, 8.6]. This is the territory of the Bloodscalp trolls, and their leaders, Nezzliok the Dire and Gan'zulah, are stationed here. It is accessed via a path heading east from Zuuldaia Ruins.
External links
Edit
Ad blocker interference detected!
Wikia is a free-to-use site that makes money from advertising. We have a modified experience for viewers using ad blockers

Wikia is not accessible if you've made further modifications. Remove the custom ad blocker rule(s) and the page will load as expected.