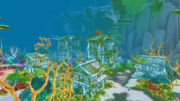 The
Ruins of Vashj'ir
[35, 78]
are the ancient
highborne
ruins of the once-majestic city of
Vashj'ir
. It is the current stronghold of the
naga
within
Vashj'ir
. Located southwest of
Nespirah
in the
Shimmering Expanse
, the vast ruins are divided into three tiers:
According to a chain of flashbacks beginning with Visions of the Past: The Invasion of Vashj'ir, Varkul the Unrelenting leads a huge army and claimed the then abandoned Ruins of Vashj'ir. Both he and his kvaldir were defeated by an army of naga lead by Lady Naz'jar and Fathom-Lord Zin'jatar.
Inhabitants
Edit
See individual subzones for inhabitants particular to those locations.
"Forward Post" Hub [33.1, 67.8] (phased)
Initial
Final
"Forward Post" Hub [39.6, 53.9] (phased)
Initial
Final
Mobs
Patch changes
Edit
External links
Edit