For the town's history, see Southshore.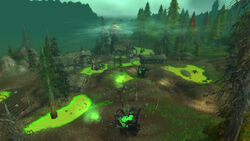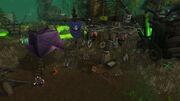 The Ruins of Southshore are all that remain of the human village of Southshore, one of the last intact Alliance towns in Lordaeron.
Southshore has been destroyed by the Forsaken's "New Plague", despite the orders of the Horde leadership to cease production after the Wrathgate incident. The town leaders have escaped to Fenris Keep, but the fate of the other inhabitants remains unknown.
Dark rangers patrol the roads nearby with domesticated spiders.
It is now controlled by the Horde and serves as a quest hub, complete with a flight master.
Flight Paths
Edit
Ad blocker interference detected!
Wikia is a free-to-use site that makes money from advertising. We have a modified experience for viewers using ad blockers

Wikia is not accessible if you've made further modifications. Remove the custom ad blocker rule(s) and the page will load as expected.