103,470pages on
this wiki
Talk

0
This article or section should likely be dramatically changed after the Cataclysm expansion.

Feel free to update any incorrect values (e.g. ability and talent articles), but please avoid overwriting all previous information with more current information (e.g. location and NPC articles).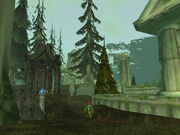 Night Elf ruins south of Feathermoon Stronghold. Hatecrest Naga inhabit the grounds.