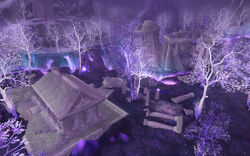 Ruins of Shandaral is in the center of the Unbound Thicket, between Sunreaver's Command and Windrunner's Overlook, in the eastern part of the Crystalsong Forest. It appears to have been a Kaldorei city before the Sundering, derived from the amount of spirits that inhabit the area who appear to resemble night elves, but most likely are Quel'dorei.
Ad blocker interference detected!
Wikia is a free-to-use site that makes money from advertising. We have a modified experience for viewers using ad blockers

Wikia is not accessible if you've made further modifications. Remove the custom ad blocker rule(s) and the page will load as expected.