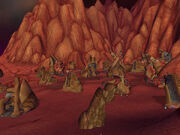 The Ruins of Sha'naar are the remains of an old draenei temple, located south of the Cenarion Post in Hellfire Peninsula. It is now occupied by Illidari fiends and their unwilling Dreghood Broken servants. The cruel fiend Arzeth the Merciless is stationed here.
The Temple of Telhamat was called the Temple of Sha'naar in an early patch.
Ad blocker interference detected!
Wikia is a free-to-use site that makes money from advertising. We have a modified experience for viewers using ad blockers

Wikia is not accessible if you've made further modifications. Remove the custom ad blocker rule(s) and the page will load as expected.