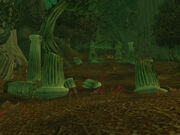 The
Ruins of Constellas
[42, 68]
is an area of
Felwood
.
Xavathras
, and his group of Jadefire
satyr
, inhabit the area. Judging by the remnants of the architecture, and the existence of a
moonwell
, it used to be one of the many
night elven
settlements near
Mount Hyjal
. This settlement was presumably destroyed in the
Great Sundering
. The moonwell has since become corrupted with
Fel
energy, and is being cultivated by Xavathras on behalf of
Xavaric
.
Quests to Get Before Arriving
Edit
In Cataclysm
Edit

This section concerns content exclusive to Cataclysm.
Druidic Emerald Bearkin are attacking the demons of the Ruins. A camp rests to the southeast where Eridan Bluewind and Arcanist Delaris await with quests. Further into the heart of the Ruins the path leading to Xavathras is blocked by a wall of fire.
Ad blocker interference detected!
Wikia is a free-to-use site that makes money from advertising. We have a modified experience for viewers using ad blockers

Wikia is not accessible if you've made further modifications. Remove the custom ad blocker rule(s) and the page will load as expected.