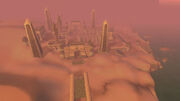 The Ruins of Ammon[31.9, 63.3] lie in the southwest part of Uldum, between Schnottz's Landing to the west and the Cradle of the Ancients to the east. Presumably these are the same ruins that Commander Schnottz's loyal friend, Gobbles, received the curse that transformed him into his turkey form, as the idols that could potentially reverse the curse are found here. There are a number of angered spirits wandering the grounds, likely summoned when Schnottz's troops attempted to loot the ruins.
Inhabitants
Edit
Patch changes
Edit
External links
Edit
Ad blocker interference detected!
Wikia is a free-to-use site that makes money from advertising. We have a modified experience for viewers using ad blockers

Wikia is not accessible if you've made further modifications. Remove the custom ad blocker rule(s) and the page will load as expected.