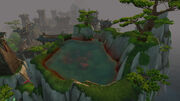 Ruby Lake is a large lake found above The Blazing Way and Ordon Sanctuary. The lake itself is not accessible on foot but aggroing a

 Highwind Albatross will cause it to carry you around the island. Ceasing the attack will cause the bird to fly, killing it will drop you.
As well as a rare mob in this subzone, this is the final location mentioned in Rolo's Riddle.
Rare Mobs
Edit
Patch changes
Edit
External links
Edit