The subject of this article was either removed from World of Warcraft or is no longer available due to the devastating Cataclysm.

The in-game information in this article is kept purely for historical purposes and may not need to remain under any other categories.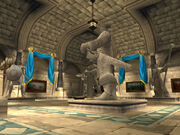 The Royal Gallery is beyond the small courtyard park, next to the Royal Library. The gallery features grandoise statues of such illustrious personas as Mara Fordragon, King Llane, and Daelin Proudmoore.
Ad blocker interference detected!
Wikia is a free-to-use site that makes money from advertising. We have a modified experience for viewers using ad blockers

Wikia is not accessible if you've made further modifications. Remove the custom ad blocker rule(s) and the page will load as expected.