Rope-Bound Treasure Chest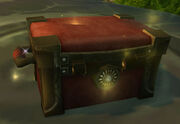 The Rope-Bound Treasure Chest is found on a pillar above Red Stone Run and is connected via rope to other platforms leading to the bridge connecting Firewalker's Path to the Blazing Way.
Getting there
Edit
The easiest way to access the chest is starting at the platform at the
Blazing Way
[59, 46]
. Walk onto the rope and look downwards. Position yourself and fall to the rope below. Repeat for the third rope.
To land on the pillar with the chest, turn on walk mode, turn slightly to the left, walk and fall off the rope onto the pillar.
Criteria of
Edit
This chest is loot-able once per week.
Patch changes
Edit
External Links
Edit