Role
103,497pages on
this wiki
Talk

0
A role is typically mentioned as a personality and direction in Roleplaying, but it is most often used in World of Warcraft as a term to refer to a player character's job during combat in groups.
Traditional combat roles
Edit
Primary roles
Tank — A key role in most combat groups, the tank holds aggro, absorbs damage, and tries to keep mobs from focusing much or at all on other roles.
Healer — Keeps tank and everyone else alive. Also often the primary debuff cleaner. Almost all instance fights require some sort of healer.
Damage dealer — Responsible for providing most of the damage during a fight to "burn down" the foe. Probably the most popular role, thus reducing demand due to high supply.
Secondary roles
Large group roles
Leader — An experienced small group often needs little coordination, but larger groups need a leader to mark targets, position roles, and clarify tactics during phased fights.
Main assist — Picks focus fire targets and decides target priorities during the fight. A main assist can also be the leader, or not.
Roles in Dungeon/Raid Finder
Edit
Roles in LFD
Edit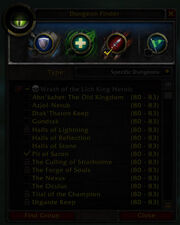 When finding a 5-man instance using Dungeon Finder, a player can choose to enter as one of three main roles:
In addition they can also set their preference for Leading role or not.
Due to the limited supply issues, Tanking and Healing roles may often be offered a Call to Arms reward. Occasionally the Damaging role may be offered this incentive.
Roles in LFR
Edit
The roles are basically the same for Raid Finder, except there is no option to put Leading preference as the raid leader is apparently chosen at random (although they can, of course, transfer leadership).
See also
Edit
External links
Edit
News